CABINET PANELS ADD A UNIQUE ARCHITECTURAL ELEMENT
Cabinet panels in wood or cabinet inserts with glass, wire mesh, metal grillwork, stained glass, and leather can all be used to add texture and interest to your custom cabinetry or kitchen design. We use these architectural elements when creating wall units, mudrooms, vanities, and custom closets. At Kitchen Designs by Ken Kelly, we like to layer and mix details within a space to create interesting focal points that reflect your individual style. Design elements like these work with rustic, eclectic, transitional, modern, or traditional kitchen cabinetry. The magic is always in the details. Here are some photos of cabinet panels you can refer to for design ideas:
There are many variations of mesh and metal grills you can select from. I just took these shots from some of the samples in our showroom to show you some of the options available. Each is unique and can add character and artistry not only to your kitchen but also to other custom cabinetry around the home. We have the entire range of cabinet panels and finishes available for you to see the design combinations in person at our kitchen showroom in Long Island NY at 26 Hillside Ave, Williston Park, NY. 516-746-3435. 
CUSTOM CABINETRY PANELS FOR REFRIGERATORS, DISHWASHERS, AND WARMING DRAWERS:
Architectural elements can include custom cabinet panels for column refrigerators, column freezers, refrigerator drawers, freezer drawers, dishwashers, and microwave drawers. Using wood panels to match your cabinet finish and style creates an integrated, seamless overall design. We can create and customize something unique and appealing to you including contemporary single panel designs, multi panel wood designs, or ornate woodworking designs.
Here we integrated matching blue cabinet panels on the refrigerator drawers in a custom bar off the kitchen adjacent to the client's den and sitting room:
You can also have us make integrated matching wood cabinet panels on warming drawers, microwave drawers, ice makers, freezer drawers, refrigerators, freezers, and dishwashers:
OTHER UNIQUE CABINET PANELS WITH WOOD, GLASS, MIRROR OR LEATHER
We can also design custom leaded glass, stained glass, mirror/antique mirror, or leather into your wood cabinet frames. Here are some project photos and samples of each:
Mirror and antique mirror cabinet panels examples. The second photo is a kitchen we did over 20 years ago using mirrors on the tall pantry and clear glass by the coffee station:
This photo is a kitchen we did over 20 years ago in Jericho NY using mirrors on the tall pantry and clear glass by the coffee station:
This is an example of how we can combine metal with wood. Shown here in gold but you can choose other metal finishes:
Clear glass with wood mullions: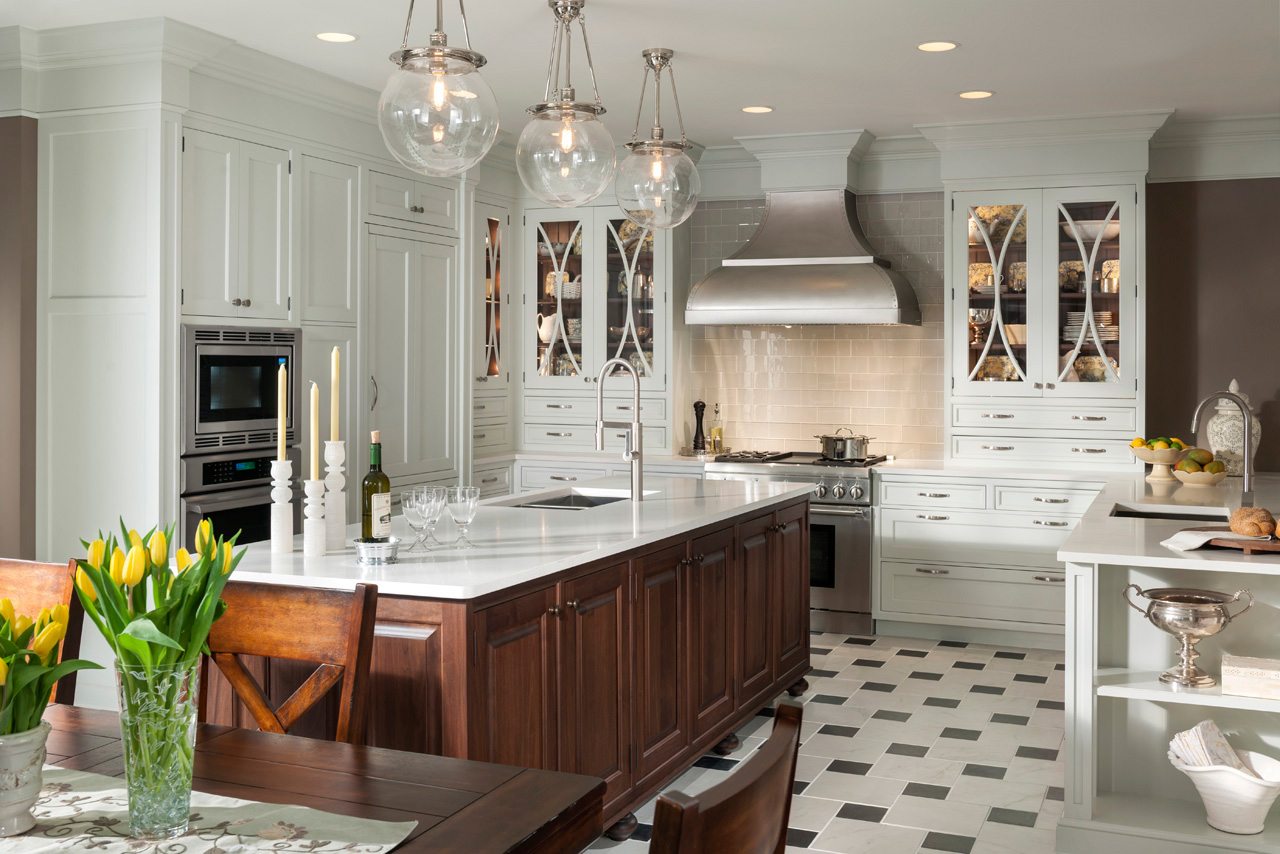 Here is the way we can create something interesting for you in leather:
This is the way we used leather cabinet panels in a master bathrooom vanity design:
For kitchen and bath door-style inspiration, visit our kitchen gallery and look closely at the way we combine elements with exquisite detail in our cabinetry.