KITCHEN DESIGNS BY KEN KELLY opened its doors in 1982 and is a premiere Long Island kitchen and bath showroom serving Nassau and Suffolk Counties, Manhattan, and the NY tristate area. For more than 35 years, our creative, dedicated team has become known for exceptional design and innovation. "We are very proud to be the No. 1  dealer in New York (and in the tri-state area including New York City, New Jersey, and Conecticut) and No. 7 in the country doing what we love to do!" In addition to several custom cabinetry brands, we carry our own signature Ken Kelly line as well as other European, Canadian, and American brands for all price points. We pride ourselves on our unsurpassed reputation for client satisfaction providing precise attention to detail, the best selection of the highest quality products, uncompromising business ethics, and a commitment to remarkable design. Our staff includes certified kitchen and bath designers and certified remodelers who are experts in kitchen design and remodeling. Our diverse team offers vast experience in creating rooms that work for your lifestyle, and we have the best tools to work with — the highest quality manufacturers, expert and talented field teams and installers who do quality work, and a very strong, organized administration that knows how to execute a project and deliver the best possible finished result. As a full service design studio, Kitchen Designs offers total turn-key services, coordinating the entire project from design and cabinetry installation to fixtures, countertops, flooring, windows, and lighting. We also offer a-la-carte services such as design only, cabinetry only, and a to-the-trade program for commercial and residential projects. Our team is dedicated on the follow-through and will take care of every detail of your renovation. We are proud to be named "Top 50 US Innovators in Design" in Kitchen and Bath Design News. Clients please note we are not associated with any other showroom bearing the Kelly name. There is only one Ken Kelly and one Kitchen Designs by Ken Kelly showroom in Williston Pk, NY.
Ken Kelly, Principal
Ken Kelly, CKD, CBD, CR Ken is an award-winning kitchen designer who studied architectural design and management in college. A 35 year veteran of the remodeling industry, Ken excels at total room design, seamlessly integrating the essential details of the entire project for his clients. His design work has been showcased in the New York Times, Newsday, and Cablevision's News 12 Long Island and nationally in leading consumer publications including House Beautiful, Better Homes & Gardens, Woman's Day, Designer Kitchen & Baths, and Distinction magazines. His designs are featured in many published books and online in HGTV Designer's Portfolio, Houzz, Kitchen & Bath Design News, and more. An active member of the National Kitchen and Bath Association (NKBA), Ken holds three certifications — certified kitchen designer, certified bath designer, and certified remodeling expert. He is a sought after public speaker on the intricacies of kitchen design for both the consumer and industry professional, offering creative design solutions that have singled him out as a leading designer. Ken's ongoing commitment includes teaching seminars and classes to the trade. Ken serves on Blanco USA's Design Council. His technical expertise and unrelenting attention to detail make him a "stand out" in the industry and have earned him a referral base that defies comparison. "Named Top 50 US Innovators in Design" 
Grace Kelly
Grace Kelly, MS, BS Business/Technology  Grace has been working with Ken for over 30 years and throughout her years in teaching. She manages our marketing, website and blog. Grace is a retired professor having served the academic community as a professor, high-school teacher, grant writer, school board trustee, and education chair. Her grants have earned significant funding for local Long Island academic programs. Grace manages our website SEO, marketing, and strategic operations providing pivotal business and technical direction driving growth in the company's offerings. Her creative work in graphic design can be seen in digital, television, and traditional print advertising as well as in branded social media. Grace (and Ken) personally interact with our followers on social media and is the liaison between our Long Island kitchen designers and the press. She also serves on Blanco USA's Design Council and is instrumental in selecting and sharing the unique product lines we offer in the showroom with our community. She is passionate about providing an unparalleled experience for Kitchen Designs' clients and keeping our clients informed about the home improvement process. Be sure to follow us on social media!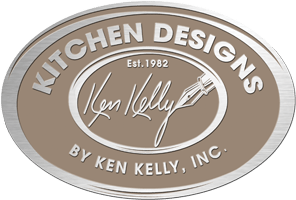 "Every room uniquely tells the story of its owners who live and find comfort in the environments we create."
Certified Designers – About The Team
Kitchen Designs by Ken Kelly is comprised of a team of professional award-winning kitchen designers with extensive backgrounds in interior design and architecture. Our work has appeared in numerous design publications. Mario, our senior lead designer has been with us over 20 years and is a graduate of the prestigious New York School of Interior Design. Mario is a visionary who continually finds ways to inspire through innovative design. He is a certified remodeler who excels in kitchen design and interior renovations and presents his clients with detailed designs, which include professional interior design recommendations. Additionally, as a design educator at C.W. Post University and Nassau Community College, he teaches courses in lighting design and technical drawing. His professional accomplishments are extensive and include teaching at other prestigious schools such as the Parsons School of Design and the Interior Design Institute in New Jersey as well as local trade show lectures. With 19 decorator showhouses to his credit, Mario has a portfolio that rivals the most seasoned designer. He is the consummate artiste, who can turn any room into a showcase.  
Senior Field Expeditors
Our highly experienced job expeditor, Ed, has been working with Kitchen Designs for more than 30 years and is responsible for coordinating and monitoring all job-site activity and schedules. He supervises all the talented craftspeople who will turn your dreams into reality and is responsible for the development and oversight of projects, coordination of tradespeople, delivery of materials, and communication between the office and the field. Your project will be organized by highly diligent project managers, Danielle & Geri, whose pre-production flow-chart system ensures your peace of mind. With 40 years in residential and commercial construction, Kitchen Designs by Ken Kelly has the knowledge, experience, and expertise to smoothly run every aspect of the installation process so you receive the best final result. The office will facilitate and coordinate the scheduling details of your installation from start to finish. Our high level of detail and responsive communication with homeowners, architects, builders, and sub-contractors help keep every job running efficiently. We will coordinate service, trades, and manage the installation process. Kitchen Designs' office staff ensures everything you need is taken care of from the planning stages to well after your installation.
Commercial Division Sales
If you are working on a commercial project or have residential clients you are working with, speak with Ken about special pricing and programs for builders, architects, and interior designers. Our exceptional industry experience has made us the go-to liason for allied trade professionals in Nassau, Suffolk, and New York City . We specialize in estate restoration, residential (high end and budget-focused) kitchen and bath design.
AutoCad Tech
Kitchen Designs by Ken Kelly  has an accomplished AutoCad designer in house whose expertise is invaluable when bringing complex design specifications to life. Our AutoCad designer works closely with Ken and remains actively involved in all phases of your project.  
Office Manager
Enza is our office operations manager at Kitchen Designs. She helps run the day-to-day operations and enjoys the balance of handling all aspects of office administration, records management, and accounting. Enza's energy is contagious, and her work is as precise as our installations. She has the happiest smile and is our "go to" person for just about everything.
Lead Carpenters and Craftspeople
Ed also leads our installation dream team. They are highly experienced masters of their crafts specializing in high-end, intricate residential remodeling. The teams we coordinate have the skillset to handle every aspect of high-end residential construction as well as commercial projects. We are precise with attention to detail on every Kitchen Designs by Ken Kelly project installation coordinating communication between your installers, interior designers, and/or architects. Rob specializes in finish work, detailed woodworking, and architectural millwork. Rob's background knowledge in math, technology, and physics plays a vital role in his ability to expertly interpret plans and build to specifications. He specializes in exquisite woodworking and trim carpentry for kitchens and baths with expertise in finish work including cabinetry and millwork, framing, drywall, windows, doors, tile, mica work, and siding. Kitchen Designs by Ken Kelly values good design, and our greatest joy is making clients happy by improving their lives with high-quality craftsmanship. 

On Time & On Budget
Kitchen Designs provides you with an exceptional start-to-finish experience, and we work with all budgets. Our team oversees every aspect of your project including all the general contracting, tradespeople, schedules, and project details to ensure a seamless installation.

Innovative Ideas
We have an award-Winning Design Team with the largest "must see" innovative Kitchen Design showroom on Long Island. We specialize in kitchens that not only meet your unique requirements, but exceed your expectations in ways you've never dreamed possible.

Advanced Technology
Honored COTY Contractor of the Year, Kitchen Designs offers customized design perspectives with "See It First" technology. We will show you exactly what your kitchen will look like with beautiful drawings and renderings.

Clear Communication
We have a very strong, organized administration that knows how to communicate and execute a project in order to deliver the best possible finished result. Our team is diligent on the follow-through and will take care of every detail of your renovation.
Have a Question? Call or Email Us Any Time
Renovating Has Never Been So Fun