Designer: Mario Mulea, CR – Kitchen Designs by Ken Kelly, Inc.
Before we began this project, kitchen designer Mario Mulea described the client's prior kitchen as "a square peg in a round hole." What he encountered on his first visit was a pickled maple kitchen with wood effect vinyl flooring sitting in the middle of a spectacular 80-year old tudor home in Rockville Centre, Long Island, New York. With failing appliances, standard height stock cabinets, and a large radiator and breakfast table in the middle of the room, Mario set out to create a style that was better suited to the client's needs and the architecture of the home.
The client's top priorities were:  increasing counter space, having more specialized appliances, and adding charm with an elegant design. Making space for a large new La Cornue CornuFe Stove
was on the very top of the priority list. The clients wanted their mantle hood to become the centerpiece and crowning glory of the new range without sacrificing all of the space between the kitchen windows. Finding a fireplace back to integrate into the mantle's backsplash design was perfectly fitting.
To be sure the range was not shadowed by any other appliances, all other major appliances were clad with cabinetry panels including the refrigerator shown below.
To further integrate this new kitchen into a beautifully decorated home, the client requested a darker, more traditional palette with a new and fresh twist. Black distressed cabinets lightened with custom leaded glass panels provide a dramatic backdrop for hand-scraped hickory flooring stained with black distressing. For the cabinetry, Mario used Wood-Mode's Brookhaven Springfield Recessed Square doorstyle in an heirloom black finish with brown glaze and rub through distressing.
Practical quartz countertops in the main work zone provide a carefree surface in a tone to match hand-molded ceramic backsplash tile. Equally practical are worn and distressed natural walnut countertops on the center island and wet bar.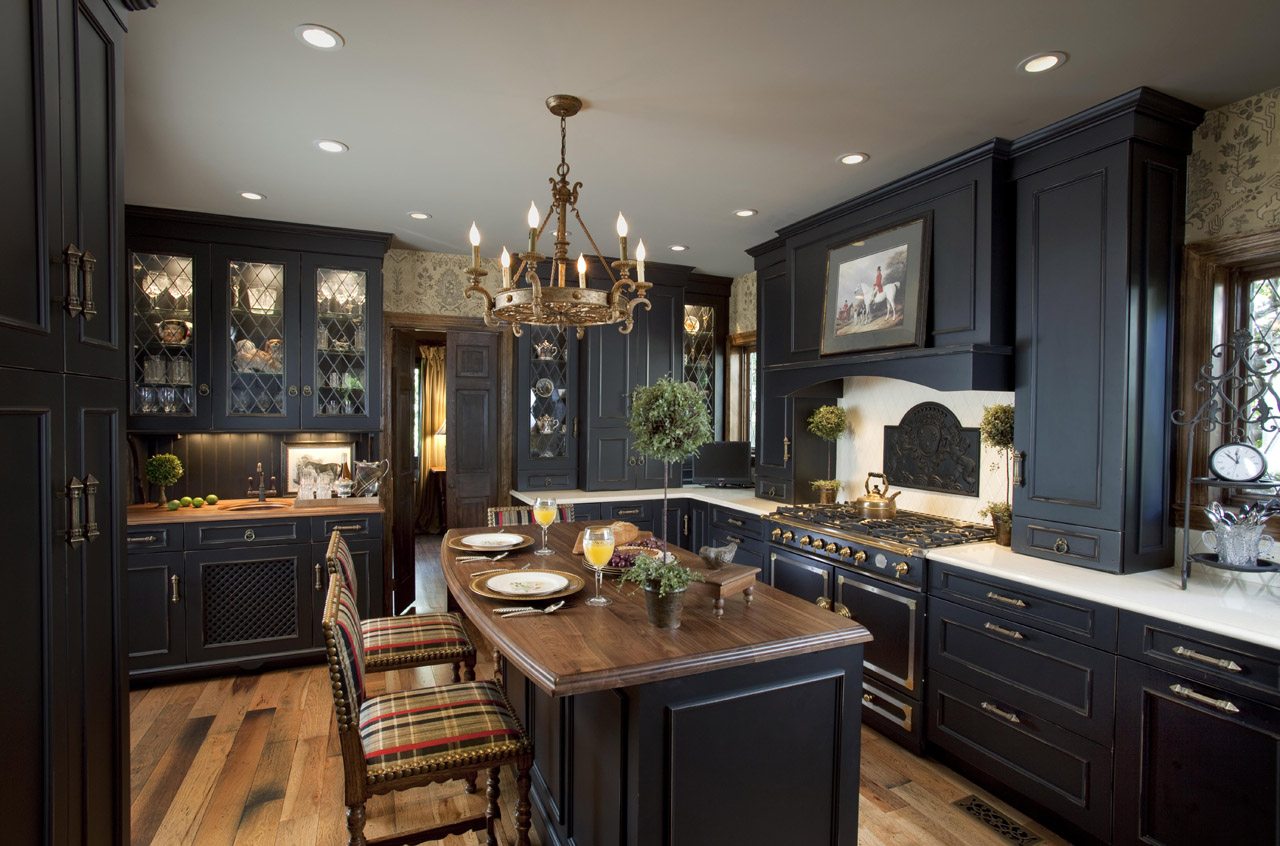 Replacing a pine hutch that was used to disguise a radiator, the client's new wet bar integrates the radiator with an open valence toe base and lattice sink door for increased air circulation (see photo below, right). Placed between the family room, formal living room, and four seasons room with hot tub, the new area greatly increases the entertainment function of the kitchen.
The finishing touch was Mario's rebuild of an existing milk delivery box as a reminder of an age long replaced by modern appliances.
See large photos of this kitchen here.