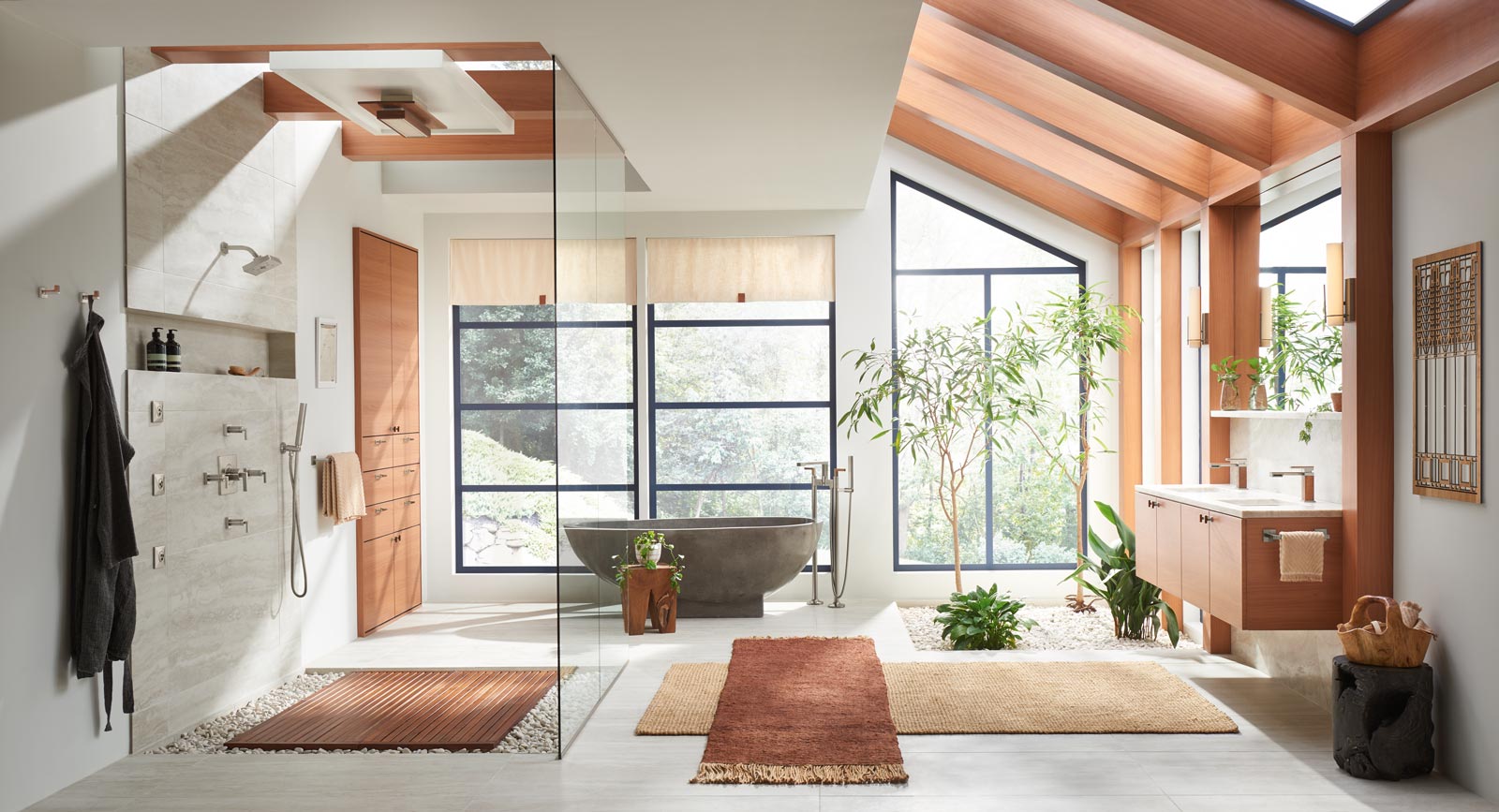 Brizo's Frank Lloyd Wright Bath Collection
Brizo pays tribute to Frank Lloyd Wright honoring his legacy and enduring artistic influence with this gorgeous new Frank Lloyd Wright® Bath Collection by Brizo®. Developed in collaboration with the Frank Lloyd Wright Foundation, the bathroom suite aligns with his American architectural style in materials and construction of every exquisite detail.
"We have been honored to work with the Frank Lloyd Wright Foundation as we developed and designed this collection," said Judd Lord, Senior Director of Industrial Design. "Their dedication to create and inspire in the name of making life more beautiful mirrors our own steadfast commitment to inspire, challenge and elevate the world around us through distinct design and unparalleled craftsmanship. Staying true to Frank Lloyd Wright's vision of reinvention was core to our product development, and the Foundation's incredible knowledge and deep reverence for that vision has been invaluable."
Wright's Six Principles of Organic Architecture
Frank Lloyd Wright's philosophy and six principles of organic architecture are reflected throughout every detail of the collection: simplicity, individuality, belonging, palette, substance and integrity. The spout has an interesting cantilevered design and the new side-stream water flow is anything but ordinary. Every detail draws from his legacy while daring to break with tradition. The result is a very unique bathroom collection.
The Frank Lloyd Wright Bath Collection by Brizo Includes:
Lavatory Faucets
Widespread Lavatory Faucet
Single-Handle Deck Mount Lavatory Faucet
Single-Handle Wall Mount Lavatory Faucet
Tub Fillers & Spouts
Two-Handle Floor, Deck and Wall-Mount Tub Fillers
Shower Systems
Pressure Balance Valve Only Trim
TempAssure® Thermostatic Valve Only, 3-Function and 6-Function Integrated Diverter Trims
Sensori® Thermostatic Valve and Volume Control Trims
Shower Components
Single-Function Raincan Showerhead with Integrated Lighting
Accessories
8", 18", and 24" Towel Bars
Open Post Tissue Holder, 3-Way Mountable
Universal Flush Lever
Wall Shelf
Drawer Knobs
Drawer Pulls
Single Robe Hook
Inspired by Wright's oeuvre, the collection's palette is nature inspired. The metal finishes are paired with the natural beauty of wood. This warm aesthetic aligns with Frank Lloyd Wright's buildings and paintings. At the same time, the innovation of the collection is evident, as seen in the Single-Function Rain Showerhead, which activates a dramatic built-in light when the rain shower begins to spray.
Bath Fixture Finishes
 The collection is available in six distinct finishes, including Polished Chrome, Brilliance® Polished Nickel, Brilliance® Luxe Nickel®, Brilliance® Luxe Steel™, Brilliance®Polished Nickel with Wood, and Brilliance® Luxe Nickel® finish with Wood.
To celebrate the collection's debut, the Brizo® brand and the Frank Lloyd Wright Foundation have created a virtual showroom to showcase its unique design elements and story. To explore the showroom, visit brizo.com/frank-lloyd-wright/virtual-showroom.
The Frank Lloyd Wright Bath Collection will be available to order this fall. Call Kitchen Designs by Ken Kelly today to learn more and make your design appointment.