As if Silestone's new quartz colors shown below aren't beautiful enough, Cindy Crawford, supermodel and international fashion icon, is now the global ambassador for the new Eternal collection. The material is highly resistant to scratching or staining and is manufactured in large-size formats for a variety of applications. The Eternal collection is the first
Silestone®
collection to be released on the market with their new N-Boost technology.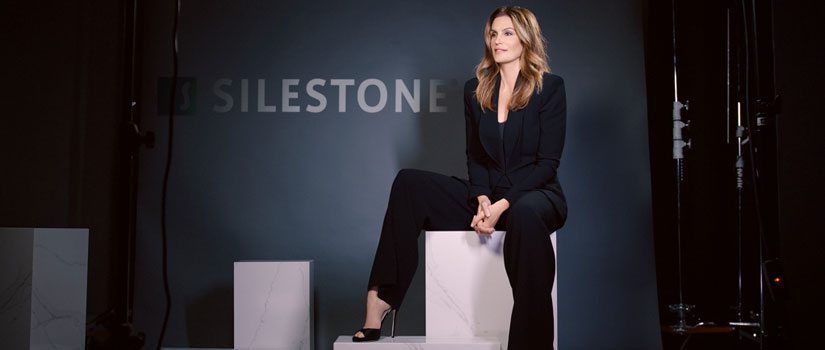 N-Boost is an innovation patented by Cosentino that uses nanotechnology to modify the surface of the material at a molecular level. The treatment is not an additive like a sealer or a wax layer, nor is it a protected layer over the surface. It is actually the result of an advanced chemical process that permanently merges structures with Silestone material resulting in a surface that prevents liquids from entering the stone. You can leave a wine splatter on the counter for days, and it will wipe off as if it were never there. Liquids are completely repelled, which makes cleaning and maintenance a breeze. With N-Boost technology, you'll also see greater intensity of color and surface brightness. Without grooves or porosities, light is reflected more directly, giving the countertop surface greater shine and brighter color.
Silestone's New Quartz Colors: Eternal Collection
The colors in the Eternal series are inspired by the world's most exotic marbles and natural stones. The six new colors for 2017 are: Calacatta Gold, Statuario, Marquina, Pearl Jasmine, Charcoal Soapstone, and Serena.
Eternal Calacatta Gold:
A color made up of a white background patterned with blueish and grey veining with golden shades. Eternal Calacatta Gold is a classic look for those who love the look of marble but don't want the maintenance.
Eternal Statuario: 
Inspired by the classic Italian Carrara marble, Eternal Statuario has a white surface with very soft, sparkling grey veins and pink hues. The stone has wonderful depth and elegance.
Eternal Marquina:
Marquina is a 2017 AD Great Design Award winner. It has an intense black base with bright white veins and details resembling Spanish Black Marquina marble.
Eternal Pearl Jasmine:
Inspired by White Macaubas marble, Jasmine is a grey-veined white stone with a timeless look. (Pearl Jasmine is only available for the US market).
Eternal Charcoal Soapstone:
Charcoal Soapstone has a blue/green-grey background and strong whitish-grey highlights. It is inspired by the popular "soapstone."
Eternal Serena:
 Serena has an earthy, natural look with grey and green hues and subtle veining in pure white. The sand finish is soft and airy.
More About Silestone
Silestone is a combination of natural quartz and other raw materials that are extraordinarily hard and highly resistant to staining. Our designers use Silestone quartz for many kitchen and bath design projects. It comes in a wide range of colors and extraordinary textures. There are three finish textures available–polished, suede and volcano.
Polished is a classic finish with brilliant color, clarity, and surface. Suede has a matte texture with a soft touch and beautiful color consistency. Volcano has an interesting textured surface that is distinctly rustic yet it is quite smooth in feel and appearance. (
Click image to enlarge.)
 The new Eternal Collection comes in polished or suede finishes.
Silestone comes in three thicknesses: 1 ¼ inch (3cm), ¾ inch (2cm), and ½ inch (1.2 cm). Silestone offers two slabs sizes: Standard is 55 inches by 120 inches and Jumbo is 63 inches by 128 inches.
Edge Profiles are as follows…
Ogee: A traditional-style edge featuring a concave arch that transitions into a convex arch; Straight Beveled: Square with a slanted top; Demi Bullnose: Rounded along the top and flattens at the bottom; Mitred: This edge joins two angled pieces; Bullnose: A completely rounded finish; and Basic Eased: Square with a slightly eased top.
If you really want to add some WOW factor…
Check out Silestone's Prexury collection. These are made of semi-precious stones, petrified wood, and unusual fossils that are stunning when back lit. The side by side images below show what the stones look like with the back lights on and with them off. They are jaw-dropping gorgeous both ways. You can use these gem stones on a countertop, a wall, a room divider, or even an art installation. The stones are magnificent!
A Note of Thanks
I want to add a very special thank you to the entire team at Cosentino Long Island — especially Lynn Silverman, Account Manager, for a wonderful presentation and showroom tour and for allowing me to photograph all the new releases in Silestone, Dekton, Sensa, and Prexury for our clients and readers.
If you're looking for kitchen designers in the Long Island and New York City area, contact us or call 516-746-3435 for kitchen remodeling in Long Island, New York City and the Hamptons!