Clever and Beautiful Canisters to Best Organize Your Kitchen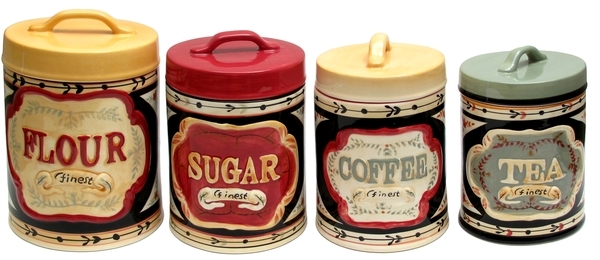 We tend to think of canisters in the kitchen only for the basics like the country store canisters above: flour, sugar, coffee, and tea but really the possibilities throughout the kitchen and home are endless! …tea bags, cookies and treats, dog biscuits, nuts & seeds, bath salts, crafts supplies, cotton pads, pens & pencils, sewing supplies, etc… Here are some beautiful storage options and ideas for using canisters around your home.    (For purchase information, click photos)
I don't think I know one person that isn't crazy about Macenzie Childs designs. This bright botanical canister is a great piece for any kitchen or bathroom.
How about this terrific idea from Kitschy Kitten using chalkboard contact paper
, a rectangular sign punch,
and glass canister jars
.
How about making a bold countertop statement with this black and white check canister. Classic and whimsical.
Sculptural and sophisticated storage in a metallic finish. A great stand alone statement piece
Vibrant and fresh. Guaranteed to add life to any kitchen counter — a Tuscan trio.
Your best beans will always feel right at home in the Coffee House
 jar.
From one of the largest private label collections of high quality accents you'll find anywhere, this set of canisters offers stylish storage potential with hammered texture and antique copper finish.

Inspired by the Tuscan countryside, this Poppy Wood Canister
 has an airtight seal and also comes in a sunflower pattern…love the wood top with inlay.
and don't forget your little beasts (pet beasts) who can have their own beastie jars
. Handmade by artists Karen and Stephen Steininger in Iowa.

Japanese Washi Canisters
are great for tea drinkers. These vacuum sealed containers are covered in handmade washi paper that would complement any zen palette.


Perhaps you're feeling a little wild…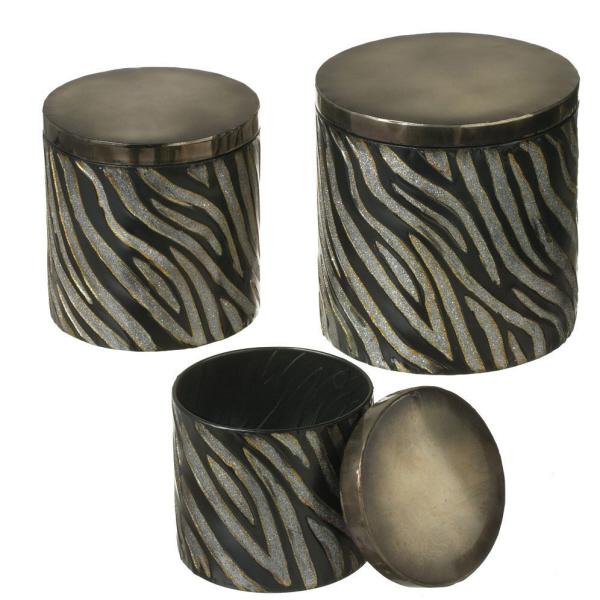 Which kitchen storage canister suits you best? If you use a special container or something that really works well, do share (Even better, email us a photo and we'll share it on the blog).
Posted by GKelly in Organizing | affiliate links |